Pocket Option Philippines
POCKET OPTION REVIEW PHILIPPINES
In this  Pocket Option Review Philippines, we will review the trading features of the Pocket Option Company and the details of the platform, their funding methods, customer service, and trading status. All the traders should know about the trading conditions, deposits, withdrawals, and support before they start to trade with any online trading platform. With over nine years of experience in financial brokers review, we have reviewed Pocket Option thoroughly to bring you this page. Is it worth investing money there? – Find and understand Pocket Option better in this Pocket Option Philippines review.
Pocket Option accepts traders from all over the world, including the Philippines. Most of the new generation traders open an account with Pocket Option for trading. The company is in business since 2017, and our research shows that its popularity is increasing day by day. You can trade in binary options with a higher return on investment of up to 94% + in this modern trading platform. Also, Pocket Option has many special features that make the broker unique. Check out more Forex Options and Fixed Time Contract Brokers available in Philippines.
COMPANY DETAILS OF POCKET OPTION
Pocket Option Philippines is an online broker for binary options and also an online broker for forex trading. The traders can access over 100 trading resources through web platforms, mobile apps, or MetaTrader 5 software. "Pocket Option" is operated by Gambell Limited Company with the address of the Trust Company Complex, located at Ajelteke Road, Ajelteke Island, Marshall Islands, Majuro, with registration number is 86967. From our working experience, it is a reliable offshore broker for investing in different types of markets. 
Platform Features and Company highlights
It has been an online broker since 2016
They accept traders from all over the world
It has its registered office in the Marshall Islands
You can trade Binary Options and Forex / CFD
Trading platforms for all devices – Android and iOS Mobile, Laptops, Desktops, and Mac.
Accepts traders from over 90 countries
More than 20,000 active traders per day
What can you trade with Pocket Option in the Philippines?
Traders gain access to the platform in currency, cryptocurrency, silver, commodities, gold, and stocks. It is recommended to trade in binary options (digital options) with a high payout of up to 95%. This is a higher return on investment in this particular niche than other brokers. Also, you can trade 24 hours a day on the platform. Cryptocurrency and OTC charts are available 24 hours a day.
The assets that can be traded with Pocket Option are:
Currencies (Forex pairs)
Stocks
Cryptocurrencies
Indices
Commodities (Gold, Silver, Oil, etc.)
IS POCKET OPTION LEGAL IN THE PHILIPPINES?
Pocket Option is a legitimate online trading platform that provides digital options and forex options trading to traders around the world, including the Philippines. They hire traders over the age of 21 to own a trading account. It can therefore be said that trading with Pocket Option is legal in Philippines. However, the traders should always check the latest regulations in their country as they change from time to time before they register with a broker.
Pocket Option carries all due diligence and KYC for all types of customers to comply with international rules. Clients can assure you of a high-quality and anti-money laundering service when trading with Pocket Option in the Philippines.
Fixed Time Trades, Forex Options and CFD trading
Fixed Time Options can be traded with different expiration times ranging from 1 minute to 4 hours or more. Both short-term and long-term traders feel comfortable offering assets and expiring. When you visit the menu you will see a list of different assets and payments.
The traders new to Binary Options can use the free demo account with a virtual balance of $ 10,000. Demo accounts are good for practicing with virtual money and perfect for understanding the platform. You can replenish the demo account if you lose the demo balance. Hence, it is an unlimited and free account for use. You do not need to sign up for this account. For money transactions in an actual account, you need to make a limited deposit of $ 50. The good thing about trading with Pocket Option in Philippines is that the minimum amount of investment is just  $ 1 per trade.
Pocket Option not only offers trading Fixed Time trading, Forex Options but also forex trading through Meta Trader 5 (MT5) software. This software is provided on a web platform and you can download it free of charge. Another good feature is its bonus options and benefits. If you want to increase your deposits and account balance, you can get up to a 100% free bonus. The acquisition is a free gift if you trade real money at Pocket Option. The traders can get a boost and bonus access if they trade higher.
Social business and competition are also available. You should follow other successful popular traders. You can easily follow them. Tournaments are created with a free demo account or a real money account. Achieve higher ranks if you are a good and courageous trader. In short, Pocket Option carries very good conditions and features for traders.
IS POCKET OPTION REGULATED?
Most of the leading Binary Options brokers are not regulated by government regulators like CySEC, FCA UK, or MiFID due to the nature of the business.
Hence, other non-government regulators or agencies like IFMRRC and IFSC have set qualifying criteria for Digital Options and Forex Options brokers. Pocket Option is registered with IFMRRC. It is registered as  Gembell Limited, Trust Company Complex, Ajeltake Road, Ajeltake Island, Majuro, Republic of the Marshall Islands MH 96960, registration number 86967. Hence, the traders from Philippines can trust Pocket Option online trading platform.
IFMRRC is an independent and safe regulator that adopts online brokerage firms. To get the certificate, the company has to meet various criteria and regulations. The FMRRC has no rules like the regulators in other countries, for example, CSEC in Cyprus or ASIC in Australia. Through our acquaintance, we know that the Pocket Option is working on a higher rule at the moment. Also, the platform provides extremely secure services and has received various security tools such as 2-factor-authentication and SSL certificates for your account. The platform uses only secure payment methods and has access to funds at any time. Overall, Pocket Option is an extremely secure company but does not get maximum control authority at the moment. 
Is Pocket Option a scam? No, it's not a scam. It is an entirely secure trading platform for traders. It shows that it is quite reliable and safe.
POCKET OPTION TRADING PLATFORM REVIEW
Pocket Option provides a trading platform for any device. You can use the web platform, download the mobile versions for iOS and Android Phones, in addition to the MetaTrader 5 platform for Forex and CFD trading. The software is fully programmed by Pocket Option and has unique features. In the next section, we will discuss the features of the platform and how to trade in Pocket Option.
The following platforms are available:
Web-version
Download version
Mobile apps
Telegram Bot
MetaTrader 5
The easiest way to trade with this broker is by using the web platform. On the web platform of Pocket Option, you will get a very good and positive overview of trading assets. After all, it is a very simple, clear, and usable trading platform. Newcomers learn trading in a matter of minutes and feel comfortable. Also, you can better understand the tutorials or learn trading by watching some basic videos on the platform.
The leading features of the web trading platform are: 
Available for all the devices (Computer and mobile device)
User-friendly and secure for trading
Free analysis tools
Clear and professional charting
A good overview of all tools
Multi-charting is possible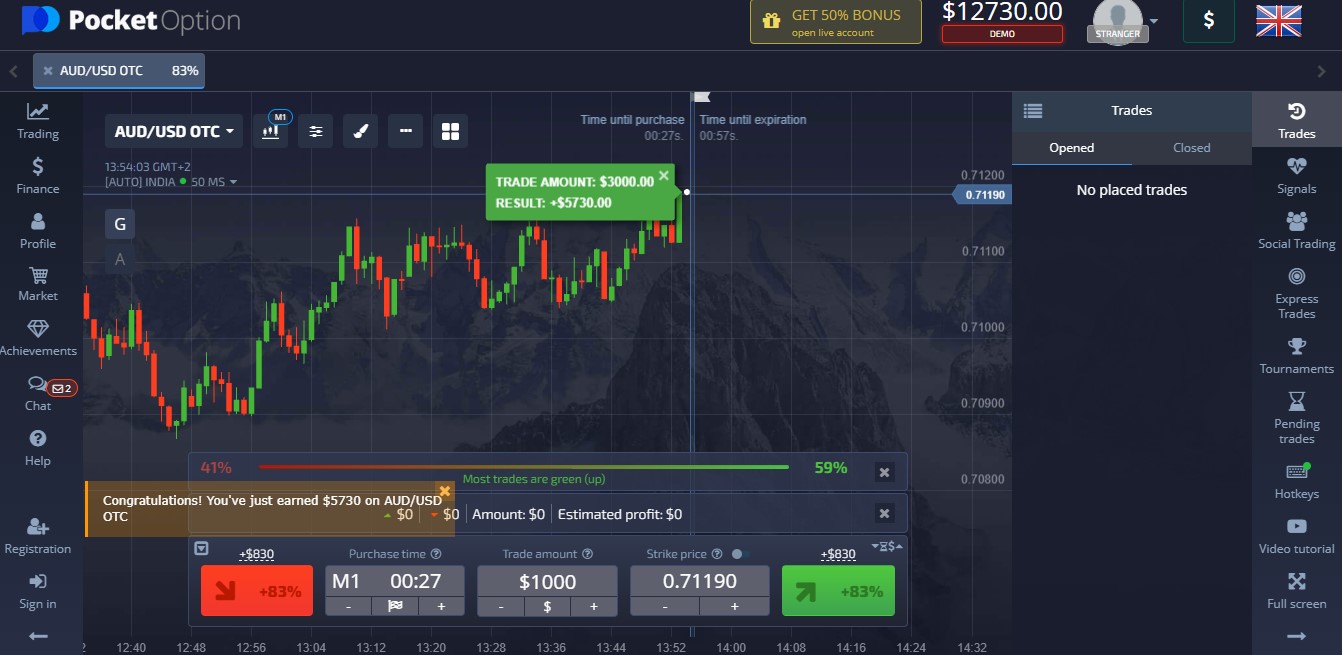 In the screenshot of the image above, you will see the trading platform in an online browser. On the left side, you'll see your profile and trading account options. You will have access to demo trading, live trading, profiles, achievements, chat, and help center. The traders can switch from Demo Trading Account to Real Money Account directly with one click.
Understanding how to trade is much easier because the Pocket Option shows you all the features that are very transparent and easy.
POCKET OPTION METATRADER 5 REVIEWS 
Since 2020, Pocket Option provides cryptocurrency trading on (MT5 Meta Trader 5) platform along with other assets like Forex, Metals, and Commodities. MetaTrader 5 is very popular and is recommended by the majority of traders throughout the world. The Pocket Option MT5 platform is suitable for technical analysis and automated trading. The traders have the opportunity to customize the charts and add tools for further analysis. 
A skilled trader can easily use the web version directly with Pocket Option Web Trader or download the software for desktop. Also, the mobile app is suitable for any device. Overall, MetaTrader 5 offers more functions for analysis than its own Pocket Option platform. From our long working experience, it is a little bit difficult for new traders to feel comfortable with MetaTrader 5 at the starting point.
How to start trading with Pocket Option?
Understanding trading with Pocket Option is not that difficult. With trading options, you can only get two possible results (either win or lose) or you will get your investment back if the price does not move from your entry price. As a trader, you need to predict the price direction. The Trading Platform of Pocket Option provides you with some special tools for analysis, such as chart types, drawing tools, and indicators. Also, you can apply all the news of the market in your analysis. 
Pocket Option MT5 Platform for traders who need it.
From our work experience, the Pocket Option platform is one of the best online trading platforms available on the Internet. Also, the broker offers Meta Trader 5 (MT5), the well-known Forex and CFD trading platform to traders who need it. The traders can use the advanced charting features of the trading platform for analyzing the market before placing any trade.  Several indicators, oscillators, graphic tools are available for use. You may also use trading signals or social trading. The is a possibility of using a Telegram Bot for trading signals automatically in your account.
The Pocket Option platform is available for all devices types, and we give it a very good rating. In addition, we recommend trying the platform with a demo account without any fees. You will find that Pocket Option trading platforms have more advantages than other trading platforms. 
HOW TO OPEN A TRADING ACCOUNT WITH A POCKET OPTION?
To trade with Pocket Option, you need to open a real trading account, sign up here with your email address and a secure password. You do not need to sign up separately to practice trading with a demo account. You can trade in the Demo Account already provided with all real accounts for free.
To sign up for an account with Pocket Option in Philippines, first, enter your email address and secure password. Then, you need to confirm your email address and phone number. For real money trading, we recommend first verifying your trading account for your safety only. It is safe for you. Go to your profile and fill out the form with your own information. You will need to upload an identity card and a photo to fully verify your account. Pocket Option can complete your account verification very quickly and within 24 hours. Now you can start working on real money transactions through your trading and use all the benefits and features of the platform.
How to open a trading account?
Register for an account in the form above
Use your email address and enter a secure password
Confirm your email address and phone number
Fill in your account details
Upload the required documents
Start trading 
POCKET OPTION DEPOSIT AND WITHDRAWAL METHODS IN PHILIPPINES
Pocket Option provides different types of payment methods for deposit and withdrawal. There are various electronic methods, such as electronic wallets, credit cards, and cryptocurrencies. The minimum amount to start trading is $ 50, and there is no fee for the deposit. Does Pocket Option charge withdrawal fees in the Philippines?  In most cases, Pocket Option does not charge any withdrawal fees.
Deposits and withdrawals to Pocket Option account in Philippines:
Instant deposits via electronic methods
All major Credit Cards accepted
No deposit and withdrawal fees apply
Cryptocurrencies deposit available
Electronic wallets like Webmoney, Advcash, and PerfectMoney
Withdrawal within 1 -3 working days 
Bonus available for each deposit
Pocket Option offers traders various bonuses. One of these popular bonuses is the deposit bonus. You can get a bonus to get extra money on your deposit. This means you deposit a minimum of $ 500 on the platform and activate the 100% bonus. When you have a  $1,000 balance in your account, availing of a bonus is a great way to increase your account balance and trade with more investment. 
But you need to read the terms of the bonus carefully. You must have more than 50x turn over in your trading account to withdraw the bonus. It depends directly on your trading volume, but you can cancel the bonus any time you want.

Customer Services and Support for Traders 
An important and last point to check with a trusted online broker is the support and services of traders. This is a very important part for new traders or high-quality traders. Here you can get help in different languages through chat, email, or phone. You have the right to 24-hour access to any of your regular workdays. Also, you can go to the chat option of the trading platform to chat with other traders and get a better idea about trading.
All Facts about the support and service of Pocket Option:  
Phone, email, chat support
FAQ available to get a quick answer to questions
Tutorials for trading 
Trading strategies
Tips and tricks
Professional service and support in different languages  
Advantages and Disadvantages of Pocket Option:
A secure and safe platform
Minimum deposit only $50
Free demo account with $10.000
More than 100 different assets
24/7 trading
High payout of up to 95%+
A comfortable platform for any device
Multi-language support
Cash-back program
Bonuses
Disadvantages of Pocket Option:
No Government regulator available
CONCLUSION
Is Pocket Option a Trusted trading platform? – Yes, it is. From our experience, Pocket Option is a reliable and trusted broker for online trading in the Philippines. It has a rating of over 4.5 out of 5 stars by our review team. Pocket Option lacks the control of a prestigious regulatory authority, but the platform seems safe and secure for deposits and withdrawals. 
You can trade in over 100 assets, including Forex, Options, Cryptocurrencies, Commodities, and Indices, with a high profit of up to 96%. Running a business on the platform is very fast. As you noticed in the review section above, we have examined real money transactions and withdrawals. The Pocket Option trading platform is available for every device.
Also, the platform provides lots of special features and tools for online traders. Traders can analyze professional charts using indicators or drawing tools. It also includes social trading and signals. Finally, we can say that Pocket Option is much better as a reliable and trustworthy online broker in the Philippines to trade with high return potential.
OverviewOil trading in the Philippines is an important part of the country's economy. The Philippines is a major oil importer, and the country's oil industry is highly dependent on imports. Oil trading in the Philippines is a complex and dynamic process, with a variety of players involved in the process. The Department of Energy regulates the country's oil industry, and the Philippine National...