Quotex Philippines Review
Quotex Philippines Review
The online trading platform, Quotex is a new name among the Online Trading Platforms offering Forex Options, Binary Options and Digital Options trading in Philippines.  It was founded in 2020, and within this short span of time it has become a well-known name in the industry. It is owned by Awesomo LTD and was established in Seychelles. The International Financial Market Relations Regulation Centre (IFMRRC) regulates Quotex.  Quotex allows traders exactly from all over the world without any condition. Now Quotex allows traders from the Philippines. Philippine traders can use several deposit methods, including Cryptocurrency, Credit and Debit Cards, e-Wallets, and wire transfers, for funding their accounts. It also allows traders to trade multiple assets such as Binary Options, Cryptocurrencies, Commodities, and Indices. Keep reading this Quotex Review Philippines article to explore more about the Company and its online trading services.
Quotex Philippines has managed to provide all the efficient and user-friendly trading tools on the platform. The platform includes different indicators, charts, graphic tools, advanced financial instruments, deposit and withdrawal methods so that each client can find something for himself. Quotex is a digital options broker with an easy-to-use web-based platform. It offers a signals service and copy trading too. This brokerage has a low minimum deposit of $10 only. There is no fund withdrawal fees, and Quotex also gives you an attractive 30% sign-up bonus. That is why Filipino traders find Quotex very attractive to start online trading.
Trading Platform
Philippine traders can open a Free Demo Account for online trading and try the trading platform for free. The traders can open an account on the quotex.io website and fund their account to start trading in few minutes. Once account registration is done, clients simply need to
select an asset,
select an expiration time and
Input the investment amount, which means how much capital you want to invest
Click on the 'Up' or 'Down option to trade
After selecting an asset, the chart will show the asset's live price. Traders can view the data in different chart patterns and time frames from five seconds to a day. The Quotex platform has nine indicators. It can be refined according to preference. In addition, 10+ drawing tools are also available to help you analyze the market.
Clients can use copy trading and duplicate the strategies of successful traders in one click. In addition, clients can find the high levels of customization the platform offers. Users have to enter their personal username, upload a profile photo, and can change the background image of their charts too. The expiry time and investment type can also be changed in a few clicks.  Additionally, the broker has introduced a quick detailed view of trades running and closed.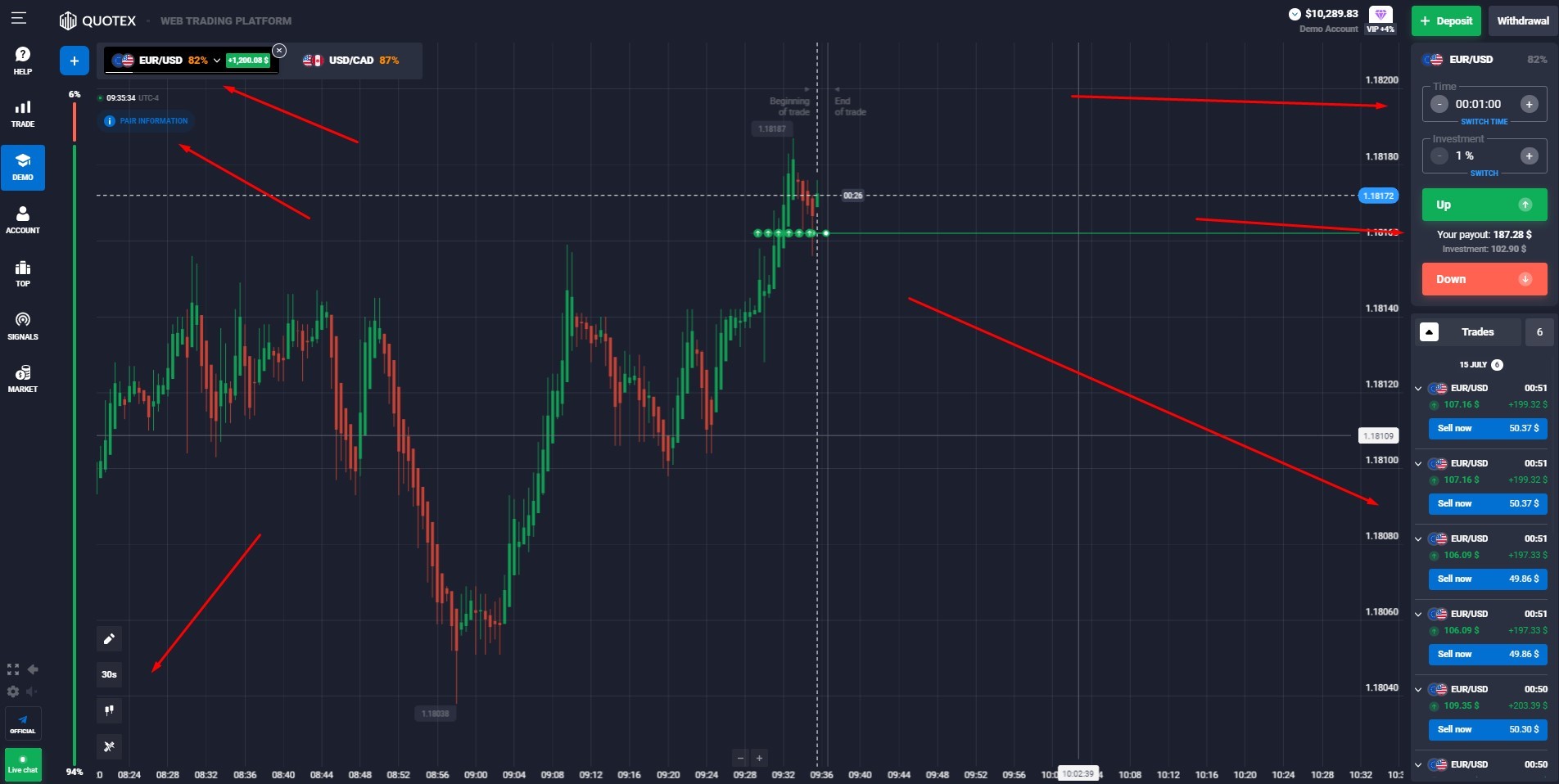 Mobile Apps
Quotex has an excellent Mobile trading platform available all over the world, including the Philippines. The mobile app is now available for iOS and Android and smartphones. The Quotex mobile app provides you the same benefits as the web platform. The  Free Demo Account has all features similar to the Real Trading Account. The Demo Account has a refillable $ 10,000 virtual money, it will help you to improve your trading skills. The minimum deposit 10$ and the minimum investment to start trading with a minimum transaction of $ 1.

Trading on Quotex Platform from Philippines
Traders can easily trade on Quotex.  With Quotex brokers, they can get one of the highest payments in the industry. The clients can get up to more than 95% for a successful trade after placing a trade on Quotex.  Quotex binary trading expiration time is at least one minute to four hours. This is similar to other brokers, as they offer the same times. The company is working on providing longer operations to be more competitive and continues to be one of the first user options.
Trading accounts of Quotex:
Quotex offers the Philippines traders Free Demo trading accounts and Real Accounts. Users can access Digital Options products, customer support, and promotions. Accounts are available in Philippine peso, euros, US dollars, Ukrainian and Brazilian reals. Registering for an account in the Philippines and starting trading is easy. In this review, we will cover account types and funding methods. The traders can check the Pro and VIP Accounts for higher payouts and better trading conditions.
Complete Range of Trading Assets
Quotex offers Crypto Currencies, Indices, Commodities, and Forex pairs for digital options trading:
Cryptocurrencies – Bitcoin, Litecoin,  Ripple, and Ethereum coins.
Indices  –  More than  15 Indices from leading exchanges.
Commodities – Gold, Silver, Platinum, Oil, and other popular energies and metals available for Binary Options trading.
Indicators And Oscillators
Quotex platform includes advanced charting features for the traders, which help to make winning trading decisions. The traders needn't switch between windows to see the trend and analyze the market. They can do it right away on the trading platform for executing the trade. Bollinger Bands, Moving Average, Awesome Oscillator, MACD, Stochastic, and Oscillator are the few indicators available.
Account Types
Quotex offers the Philippines risk-free Demo Accounts that don't require any deposit. The three types of Trading accounts for traders to choose from are Standard, Pro, and VIP account types. These three types of accounts are well equipped to offer some excellent and unique trading features. The VIP account and Pro Account offer extra benefits like higher payout and faster withdrawal processing.
Demo Account
Quotex offers a risk-free demo account with 10000$ virtual money and is totally free of cost to the traders.  You don't have to submit your financial information to start trading in a demo account. Also, you can top up the Demo Account anytime you want. Open your Free Demo Account in the Philippines.
Standard Account
In the Standard Account, the traders can start with a minimum deposit of at least $10. After that, customers can deposit money using a bank card, VISA, electronic payment system, cryptocurrency, Bank Transfer, Skrill, Neteller, Credit Cards, and many other options. Quotex also accepts Cryptocurrency deposits.
Pro Account
Serious traders deserve better trading experience and higher profit. Quotex gives Pro status to the users with more than a $1000 balance. The Pro account traders get priority support, a higher payout compared to Standard Account and a dedicated account manager. Pro account users can enjoy higher payout and faster fund withdrawals.
Vip Account
Professional traders with a big and higher investment deserve special attention from the broker. Quotex offers VIP status to traders with a $5000+ balance. The VIP traders get priority support, higher payout, and a dedicated account manager. Open a VIP account to enjoy benefits like faster fund withdrawals free of charge.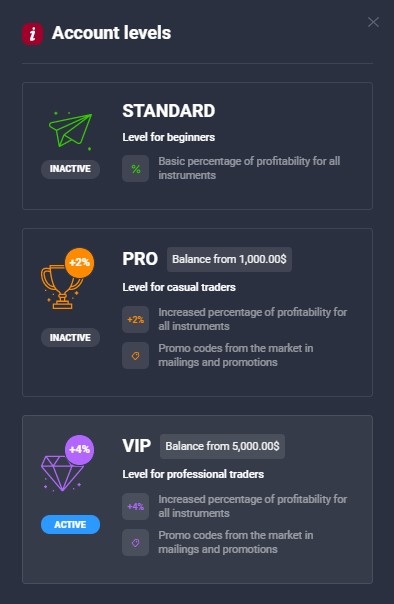 High Payout
Quotex is one of the best Binary Options Platforms, offering the best within the industry payout on trades, up to 90%. The payout percentage varies within the liquidity in the market. So the traders can find the best and highest paying assets and invest in them.
Customer Support 
Traders can communicate with customer support directly through the platform interface by submitting a ticket or using the live chat option.
Real-Time Quotes
Quotex works closely with the best liquidity providers to provide real-time charts with high accuracy.
24/7 SUPPORT SERVICE:  The support services work professionally to help customers well. Clients can also send support requests by filling an online form or by sending an email to support@quotex.io.
Is Quotex Regulated in the Philippines?
Quotex does not come under any regulators in Philippines. It is an overseas online trading platform with a prestigious reputation for transparent trades and the highest standard of customer service.
Although Quotex does not comply with any financial regulators in the Philippines, it is one of the most trusted online trading platforms in Philippines and all over the world. Quotex is a legit company registered in St. Vincent and Grenadines.
Maxbit LLC, Owns and manages the brand Quotex and has its registered address: First Floor, First St Vincent Bank LTD Building, James Street, Kingstown, St. Vincent and Grenadines. Hence, Quotex is a legit trading platform in Philippines. It's common in most Digital Options brokers' cases; none comply with any significant Government regulators. Check out more Binary Options brokers in Philippines and Forex brokers in Philippines.
How to trade Quotex in Philippines?
Quotex is one of the leading Options platforms in Philippines. The traders can register for an account by providing their email addresses and name. Then they can access an unlimited Demo Account with $10,000 virtual money. This Demo account can be used for learning and practicing purposes. After the trader feels comfortable with the trading platform and learns some trading skills, he/she can start trading by depositing a minimum fund of $10. The trader needs to predict if the price will be higher or lower after a fixed time; if the prediction is correct, then he gets up to 95% return on investment.
Quotex Deposit Methods In the Philippines
In addition to the regular funding methods, Quotex accepts local payment methods in the Philippines. Local payment features are presently available in Malaysia, Thailand, Vietnam, India, the Philippines, China, and many other countries. Contact the online support team if you face any problem while depositing; they are going to come up with an answer or solution for you. 

Local Funding Methods in the Philippines
Philippine traders can deposit to their Quotex account using local deposit methods and wallet services.
The local deposit methods in the Philippines include Banks (RCBC Online Banking, Maybank, Unionbank, BPI, PSBank, etc.) and Philippines E-
wallets (GCash, GrabPay, Coins.ph), Cryptocurrency, and Bank cards.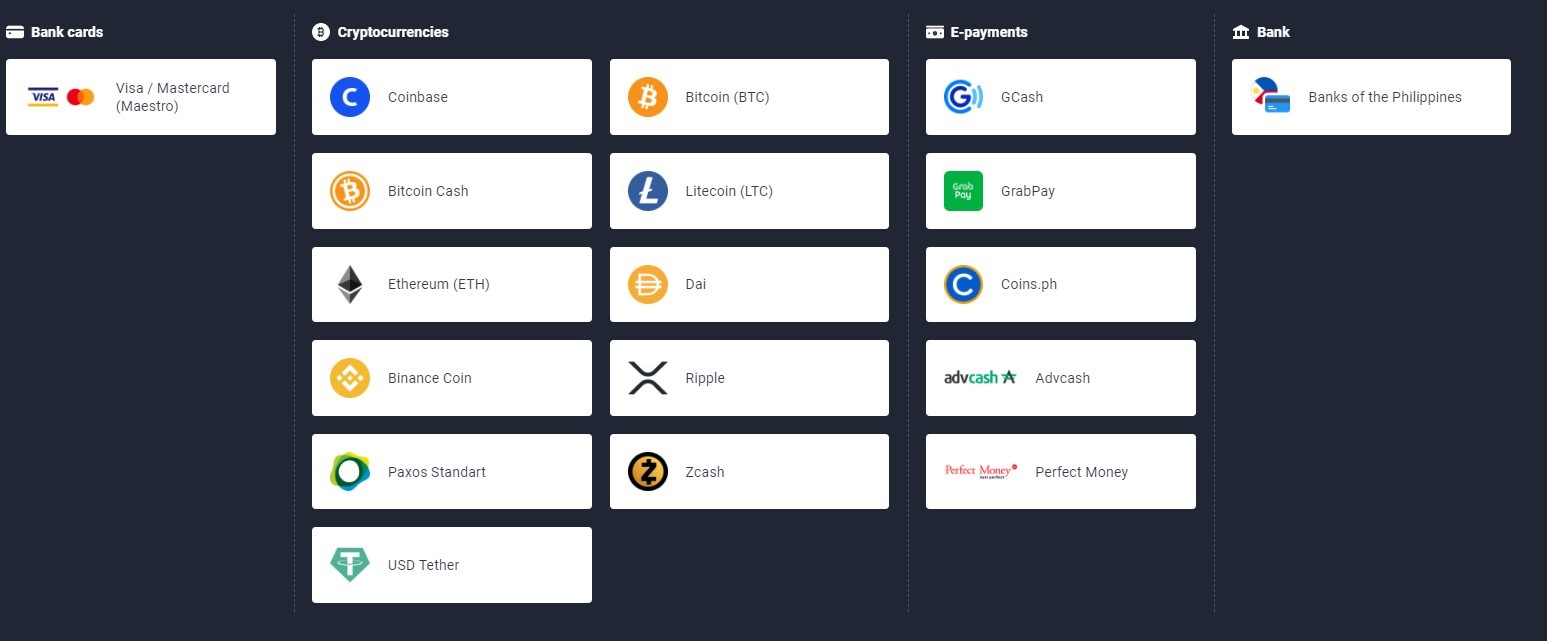 Is Quotex Legal In The Philippines?
It's legal to trade Binary Options with Quotex online platforms. It's a registered in St. Vincent and Grenadines as a financial trading company. Maxbit LLC own the brand Quotex and has its registered address as  First Floor, First St Vincent Bank LTD Building, James Street, Kingstown, St. Vincent and Grenadines. It is legal to trade Binary Options in the Philippines with Quotex any other brokers in any other country. The traders must comply with the local tax rules while earning from Forex and Binary Options trading.
Since the regulations are frequently changing, make sure that your country's current legislation about online trading before you invest.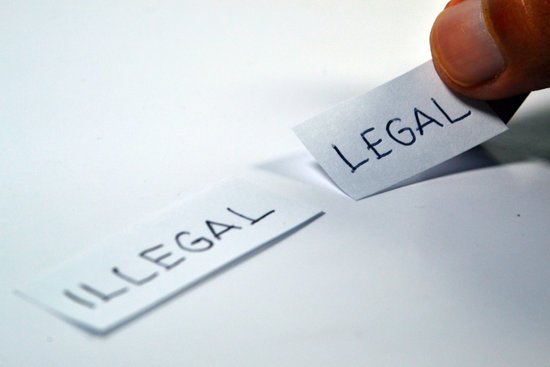 Can I Trust Quotex?
Yes, Quotex is a trustworthy trading platform accepting traders worldwide.
Can I use Quotex in USA?
Quotex does not accept USA traders, as mentioned on its website.
Can I withdraw from Quotex without verification?
Quotex requires all traders to verify their accounts before placing any withdrawal request. It is because of international regulations to prevent financial fraud.
Can you withdraw from Quotex without verification?
No, You can not withdraw from Quotex without verification.
Does Quotex payout?
Yes, Quotex pays out the profit or funds in a timely manner.
How do I deposit money into Quotex?
You can use your credit or debit card, wallets, cryptocurrencies, and some local deposit methods based on your country to deposit money to your trading account.
How long does it take to get a withdrawal from Quotex?
Quotex processes the withdrawal request on the same day. However, it may need up to 3 to 5 days to reach your account, depending on the payment method used.
How long does it take to get money out of Quotex?
It is processed on the same day. It may take up to 5 days, depending on the type of withdrawal methods used.
Is Quotex a good broker?
Yes, Quotex is a good broker regarding trust, payout, transparency, and customer service.
Is Quotex a legit broker?
Quotex is a legit broker with its address Maxbit LLC. First Floor, First St Vincent Bank LTD Building, James Street, Kingstown, St. Vincent and Grenadines.
Is Quotex trusted?
Yes, Quotex is one of the most trusted brokers.
Where is Quotex located?
Quotex has its registered address in St. Vincent and Grenadines.
Which is better Quotex or Binomo?
Quotex outperforms Binomo in several aspects. Quotex is better.
Who is the owner of Quotex?
Maxbit LLC owns Quotex.
Final Words – Quotex Review Philippines
Without any question, Quotex is one of the best brokers in the Philippines and all over the world. With a minimum $10 deposit, you can trade here and explore the potentially profitable marketplace. It allows you to confidently trade a number of assets through digital options. It gives a modern trading platform. It also permits traders from all over the world to access quite 400 different assets. So open a Free Demo Account on Quotex.io to understand its platform in and out. Find out why this broker deserves its recognition together with the leaders within the industry.